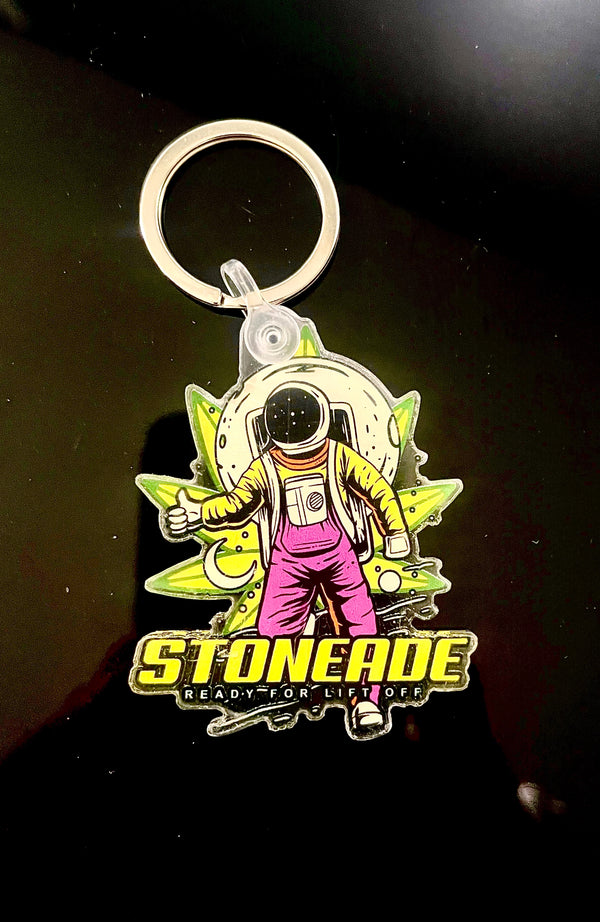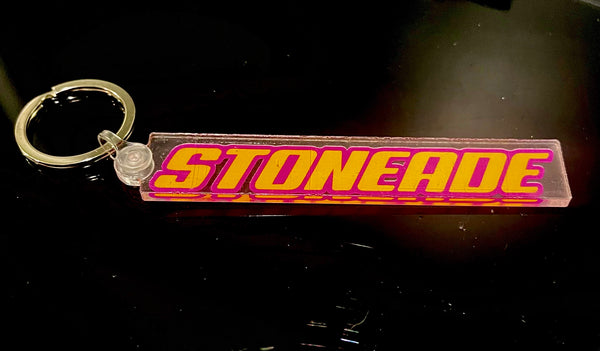 Stoneade Moon Man Keychain
Are you ready to unleash your celestial charm wherever you go? The Stoneade Moon Man Keychain is here to transport you to a world where elegance meets celestial magic. Crafted with precision and care, this keychain is more than just a stylish accessory; it's a statement piece that exudes sophistication.
Features and Benefits:
🌙 Lunar Luminescence: The captivating Moon Man design, delicately etched into a premium stone, captures the ethereal beauty of the moon. Radiating a subtle glow, it infuses your day with an enchanting aura, leaving others spellbound.

🌟 Unleash Your Individuality: With its unique design, this keychain allows you to express your individuality effortlessly. Whether you attach it to your keys, bag, or backpack, its presence will ignite conversations and spark curiosity, making you stand out from the crowd.

🌌 Premium Craftsmanship: Meticulously handcrafted, the Moon Man Keychain showcases unparalleled attention to detail. Each stroke and curve reflects the expertise of skilled artisans, ensuring a high-quality piece that withstands the test of time.

💫 Inspiring Serenity: As you hold this keychain in your hand, its smooth surface and gentle weight create a sense of tranquility. Feel the stress melt away as you connect with the serene energy it emanates, inviting balance and harmony into your daily life.
Join the countless satisfied customers who have embraced the Stoneade Moon Man Keychain, elevating their style and embracing the cosmic wonder that surrounds us.
Stoneade Bold Letters Keychain
Step into a realm of boldness and confidence with the Stoneade Bold Letters Keychain. Designed for those who embrace their individuality and unapologetically leave their mark on the world, this keychain is a testament to your unstoppable spirit.
Features and Benefits:
🖋️ Unleash Your Inner Power: With its captivating bold letters, proudly proclaim your connection to the Stoneade brand. Each letter represents your unwavering determination, resilience, and the fire that fuels your ambitions.

🔥 Make a Statement: The Stoneade Bold Letters Keychain demands attention. Its striking design becomes a conversation starter, effortlessly conveying your unique style and magnetic personality.

🛡️ Uncompromising Durability: Crafted from premium materials, this keychain is built to withstand the demands of your adventurous lifestyle. With every touch, you'll feel the solid construction and rugged reliability, ensuring it stands the test of time.

🤝 Join a Community: By embracing the Stoneade Bold Letters Keychain, you become part of a vibrant community that supports and uplifts each other. Share your stories, inspire others, and let the Stoneade spirit connect you with like-minded individuals.
Experience the empowerment and confidence that comes from owning the Stoneade Bold Letters Keychain. Let it be a constant reminder of your limitless potential and a symbol of your unwavering commitment to chasing your dreams.
Unlock the Power of Stoneade Keychains Today!
Transform your style and express your unique persona with Stoneade keychains. Choose the captivating Moon Man Keychain to embody the celestial allure, or opt for the Bold Letters Keychain to make a bold statement. With these exquisite accessories, you'll leave a lasting impression wherever you go.
Experience the enchantment. Embrace the boldness. Elevate your style with Stoneade keychains.
Place your order now and embrace the magic of Stoneade! Take the first step toward becoming a true trendsetter.