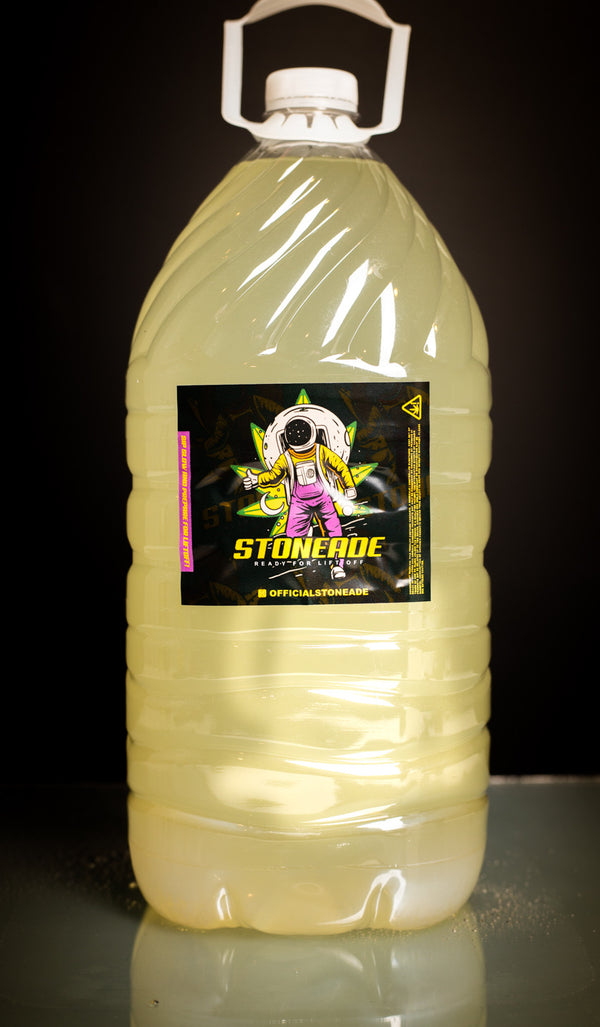 SAME mouth-watering lineup of fresh squeezed lemonades & limeades, crafted with the perfect balance of sweetness and tanginess to quench your thirst....JUST BIGGER (128OZ) Each flavor is STILL made with the finest ingredients and natural fruit juices, ensuring a refreshing and delightful experience with every sip. Discover our 17 vibrant flavors and let your taste buds embark on a delicious journey:
Classic Lemon: This is where it all begins – our fresh squeezed lemonade, crafted from sun-ripened lemons, lightly sweetened to perfection. A classic, timeless beverage to quench your thirst and delight your senses.

Strawberry Lemonade: Our Classic Lemonade harmoniously blended with sweet, ripe strawberries. It's a perfectly balanced, refreshing, and fruity summer's delight that'll tantalize your taste buds.

Miami Breeze Lemonade: Experience a tropical vacation in a glass! Our Miami Breeze Lemonade, infused with rich pineapple puree and a hint of exotic blue curacao, delivers a sun-drenched island escape with every sip.

Mango Lemonade: A lush, tropical twist on our Classic Lemonade. Made with ripe, juicy mangoes, this lemonade offers a taste of the tropics with its sweet, tangy, and utterly refreshing flavor.

Raspberry Lemonade: This blend combines our Classic Lemonade with the fruity tartness of raspberries, resulting in a delightfully refreshing and vibrant beverage. It's summertime in a glass!

Kiwi Lemonade: An exotic twist to our classic flavor, the Kiwi Lemonade is a unique blend of zesty lemons and ripe kiwis, bringing you a taste that is both tangy and sweet.

Pineapple Lemonade: Savor the tropics with our Pineapple Lemonade, combining classic lemonade with a splash of sweet pineapple juice. It's a sun-kissed delight that's perfectly refreshing.

Crisp Apple Lemonade: Experience a delightful mix of tart lemons and sweet, crisp apples in our Crisp Apple Lemonade. It's a countryside harvest in a glass!

Dragonfruit Lemonade: Experience the exotic with our Dragonfruit Lemonade, a harmonious blend of Classic Lemonade and mild, sweet dragonfruit. It's a refreshing surprise that's sure to delight.

Blueberry Lemonade: Sweet, tangy, and bursting with flavor, our Blueberry Lemonade offers the essence of summer with each sip, combining classic lemonade with a generous dose of rich blueberries.

Black Cherry Lemonade: Indulge in the lush, sweet-tart flavor of our Black Cherry Lemonade, a fusion of ripe black cherries and our classic lemonade. It's a sweet, tangy, and refreshing treat.

Guava Lemonade: Transport your taste buds to the tropics with our Guava Lemonade, a unique blend of Classic Lemonade with the exotic, sweet-tart taste of fresh guava. It's an island escape with every sip!

Lychee Lemonade: Experience a delightful journey of flavors with our Lychee Lemonade. Its sweet and tart notes of lychee fruit perfectly complement our classic lemonade for a unique, exotic refreshment.

Passion Fruit Lemonade: Dive into the tropical bliss of our Passion Fruit Lemonade. The exotic, tangy flavor of passion fruit paired with our classic lemonade offers a refreshing, tropical retreat.

Peach Lemonade: Our Peach Lemonade is summer in a glass! Sweet, juicy peaches mingle with our Classic Lemonade in a delightful dance of flavors that's absolutely refreshing.

Limeade: A zesty twist on our classic formula – our Limeade offers a fresh-squeezed experience made from ripe, tangy limes. It's a citrusy delight that is just as refreshing and satisfying.

Strawberry Limeade: Our Strawberry Limeade is a taste sensation! Freshly squeezed limes meet sweet, ripe strawberries in a refreshing blend that's a perfect balance of tart and sweet.
LET THE BIG DAWGS DRINK!!!!
Great taste! And the lift off is great!!
GREAT TASTE AND STRONG.
I WILL PURCHASE PEACH NEXT TIME. THANKS
Amazing
I have been a huge fan of their products since finding out about them. Great taste, price, and delivery times.