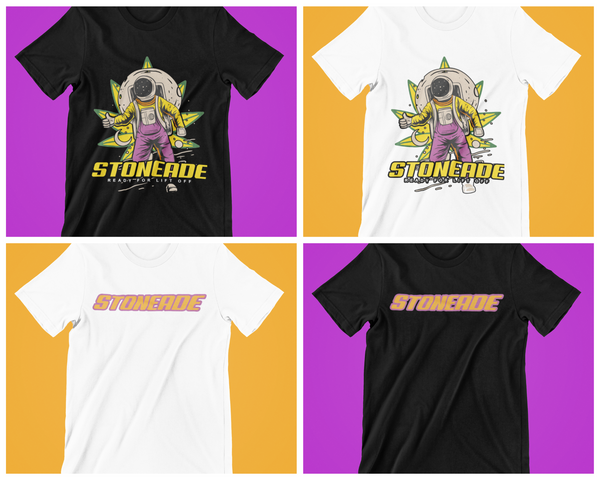 Introducing the Stoneade Merchandise Collection: Refreshing Lemonades and Stylish Accessories!
Welcome to the official Stoneade Merchandise Collection, where we bring together the best of both worlds: our signature fresh-squeezed lemonades and trendy fashion items. Get ready to showcase your love for all things citrus and fashion-forward with our premium short sleeve t-shirts and reversible bucket hats.
Short Sleeve T-Shirts: Our short sleeve t-shirts are designed to capture the essence of Stoneade's refreshing lemonades. Crafted from high-quality materials, these shirts are perfect for both casual outings and lounging at home. Featuring our iconic Stoneade logo and vibrant lemonade-inspired graphics, these tees are a must-have for STONEADE enthusiasts and fashion-conscious individuals alike. Stay comfortable and stylish with our Stoneade short sleeve t-shirts.

Reversible Bucket Hats: Shield yourself from the sun while making a fashion statement with our reversible bucket hats. Made from durable materials, these hats provide excellent protection and are ideal for any sunny day adventure. With two stylish designs in one hat, you can effortlessly switch up your look to match your mood or outfit. Whether you're strolling along the beach or exploring the city, our Stoneade reversible bucket hats will keep you looking cool and feeling comfortable.
Stoneade is renowned for its fresh-squeezed lemonades and delectable gummies, and now you can showcase your passion for our brand with our exclusive merchandise collection. Our apparel and accessories reflect the vibrant and refreshing spirit of Stoneade, ensuring that you stand out from the crowd.
Visit our Shopify store today to explore the complete Stoneade Merchandise Collection and bring a taste of our delicious lemonades and the latest fashion trends into your life. Cheers to style and refreshment with Stoneade!
Stylish Sun Protection: Our reversible bucket hats are not only trendy but also provide essential sun protection. The wide brim shields your face and neck from harmful UV rays, reducing the risk of sunburn and keeping your skin healthy.
Reversible Versatility: With our reversible design, you get two hats in one! Choose between vibrant patterns or a classic solid color, allowing you to switch up your look effortlessly and match it with various outfits.
Lightweight and Breathable: We understand the importance of comfort during those scorching summer days. Our bucket hats are made from lightweight and breathable materials, ensuring you stay cool and comfortable wherever your adventures take you.
Why Choose Our Summer Collection?
When it comes to finding the perfect summer essentials, our collection stands out from the rest. Discover why our customers keep coming back for more and why our summer collection is a must-have for your wardrobe.
Superior Quality: We take pride in the quality of our products. Our short sleeve t-shirts and reversible bucket hats are crafted with precision, using premium materials that ensure durability and longevity. Enjoy your summer essentials for years to come.
Fashion-forward Designs: Stay ahead of the fashion curve with our trendy designs. Our collection features styles that are carefully curated to reflect the latest fashion trends, allowing you to showcase your unique style and stay fashionable all season long.
Unmatched Customer Satisfaction: We prioritize your satisfaction above all else. From our hassle-free ordering process to our exceptional customer support, we strive to make your shopping experience memorable. Join the thousands of satisfied customers who have made our summer collection their go-to choice.